Keep Calm And Carry On...
Is it possible to build a life of calm through chaos? The answer is yes. This is how I took a broken promise and built a life of purpose and prosperity in four years.
Today marks my four year anniversary of living in the UK. I have lived here before, but I've also lived a lot of places before. This four year anniversary is different. Different because it marks the anniversary of making a life for myself, by myself. Not the life I often found myself living because of my career, not the life I lived dictated by a celebrity client's schedule, but the life I've always imagined and dreamed of. A life of living in a city with history & culture that allows me to be a homebody yet work in a way that is deeply creative, fulfilling, with talented and kind people. And like many dreams - it did not come into reality the way I imagined and hoped it would. It did however, come into reality and continues to a little more everyday.
Promises made is what brought me to the UK. Promises broken is what has kept me here. A few years ago, I went to have lunch with a musician friend of mine in LA before heading out of town. He said something to me which I've never forgotten. We were speaking about relationships and specifically, relationships that didn't work out. He said, "Just because the people change, doesn't mean your dream has to. The dream is yours." It struck a deep chord and it's what inspired me to take the greatest leap of faith in my life. A leap of faith that ended in epic failure and was nothing short of disastrous and deeply traumatising.
"A place belongs forever to whoever claims it hardest, remembers it most obsessively, wrenches it from itself, shapes it, renders it, loves it so radically that he remakes it in his own image."
- Joan Didion
But out of that disaster has come so many gifts. My first Christmas in London, I spent at home alone. This may sound really sad, but it wasn't actually. I was the most physically unwell I have been in recent memory. Under constant stress from being abused, harassed and threatened by the man I chose to build a life with. To say it was incessant, would be an understatement. It was the first time my adult self had felt the effects of technology and how invasive it can be when it comes to abuse that goes beyond physical, but permeates every crack and crevice of your digital life - day in and day out. It was a level of drama I was unaccustomed to. My body simply revolted, convulsed and shut down. I spent Christmas with two cats and Jamie Oliver's Christmas special. I don't remember what I ate because most of my time was spent with my head down a toilet.
Be realistic. Plan for a miracle.
The dreamy family life and loving existence I thought I was walking into was the furthest thing from my reality. But I ended up finding a family in the most unexpected place. I left my relationship physically before I Ieft it emotionally, mentally and officially. It was the first time I wished I had watched Sleeping With The Enemy, just so I could have some strategies in place to physically leave. But I hadn't watched that movie. I was too busy watching John Hughes movies like Pretty In Pink and Sixteen Candles where against all odds, the relationship works out as the final credits roll to a soundtrack of OMD or Psychadelic Furs. I then tried to recall all the articles I had skimmed of Katie Holmes' stealth planning to leave her union with Tom Cruise. Here's a truth bomb for you - leaving an abusive relationship requires a lot of strategic thinking. It requires an otherwise heart on sleeve kind of person (which is definitely me) to dive into areas of psyche and strength you don't even know exist until you need them. Oftentimes I felt like a stranger to myself. I felt mean. But what I was doing was upholding boundaries and putting myself first after decades of never having any experience or examples of what that actually looks or feels like.
Once I left physically - I miraculously manifested my happy place. Northwest London - specifically Hampstead. It was where I had always gone - even when London wasn't home. With the expanses of Hampstead Heath at the end of the road of the house that became my home, my new life slowly began to take shape. And all because I made a connection with a woman through an online ad. The Heath itself became the place I felt the most safe - surrounded by trees, in nature and with more muddy happy dogs running around than you can imagine. I knew for my career, London had to be my base, even as I dreamt of retiring to the countryside. Which is what made Hampstead my forever number one choice since I first stumbled across it in 1997 after nodding off on the Northern line and failing to get off at Chalk Farm to meet a friend in Primrose Hill. Hampstead is the best of both worlds - a slice of village life in the city. Jenna (pictured above, right) was the first miracle in my road to recovery. As she left London for a life with her love in the countryside, her home became my home.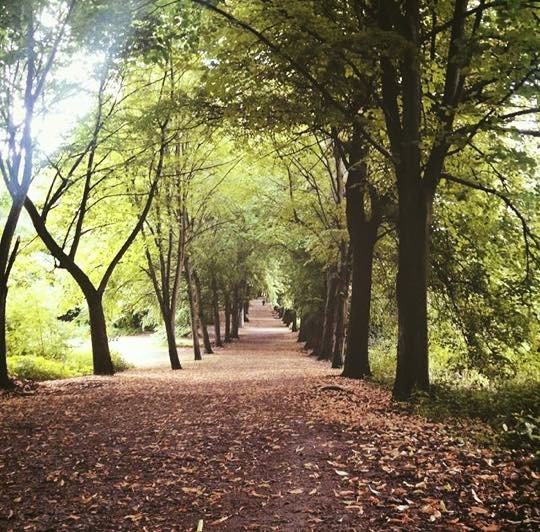 Glory of London! Where Keats walked and Jarman fucked, where Orwell exercised his weakened lungs and Constable never failed to find something holy."
― Zadie Smith

And that brings me to tip # 2 when building a life of calm while living in chaos, find a place that you can call home that feels safe. Quite often women in abusive relationships are really bad with boundaries. That was definitely true for me and continues to be my life's work. I tended (note, past tense) to believe the sob stories of charming men who waxed ecstatic of the horrible women they were in relationships with. It spoke very loud and clear to the saviour in me. How they were always misunderstood, wrongly accused of cheating, inappropriate behaviour, or much worse. If you fall for a man who shares these kinds of stories with you - it should trigger every alarm bell in your body. If you choose to dig deeper, be prepared to find a sea of lies. I broke up with my saviour complex and my happiness factor expanded exponentially. The drama that was my love life - is a thing of the past.
My second miracle came in the form of successfully pivoting my career from styling to landing a really good job I didn't have to formally apply for. I spent all of 2015 working for a Canadian fashion brand that was setting up shop in London. As their Int'l Market Director I had what many called a 'dream job'. I was paid to come up with ideas and make them happen with a talented team. I hosted supper clubs in London's coolest restaurants, created activations that were green lit by the Canadian HQ,, threw parties for the entire summer and connected with the cool kids of London. In doing so - I ended up reconnecting with the cool kids of my past. A wonderful group of humans I worked with when I lived in London in the mid-to-late nineties. I hosted them as guests, hired them as collaborators and still work with some of them as a consultant to this day. For that, I have to thank Darrell Kopke, who was my CEO and a contact from Vancouver for believing in me and giving me this opportunity. He was also the perfect counterpart to the personal situation I found myself in. A gentleman, supportive and trustworthy. I confided my personal situation to him and his succinct advice was "throw yourself into this job and keep yourself busy." It was essential for my mental and emotional health to be in regular contact with kind and ethical men professionally at a time when I was dealing with a cruel and abusive man, personally. For the whole of 2015, I worked my ass off. My job became my life and I was happy for it to be that way. Very few people knew of the ongoing stress I was living with. It was the best thing that could have happened to me during the worst time of my life.
And that brings me to tip #3 - as victims of abuse - our self esteem also takes a beating. The bruises and aches from the self-esteem beating is much deeper and harder to heal than the physical ones. When you have someone telling you via every communication channel possible what a horrible person you are, tweeting at your employers about you, wishing you the worst, hurling the most out of the world accusations at you, it's easy to lose the connection to your true self. Always have a sense of wonder alive even when you feel you're dying every day. When someone presents you with an opportunity, seize it. Make it your own and run with it. It becomes a form of therapy. Below are some of my old friends and new friends. Once strangers, now friends and some who have become clients. The bond however, is rooted in a deep caring for each others humanity. It was because of my professional life that I connected and reconnected with these group of beautiful humans.
In 2016 I was blessed to have three months off after working all of 2015. I made space for personal development and a lot of much needed healing. Serendipitous encounters of meeting renown leaders from the world of personal development and taking workshops and studying with them to sharing time with friends visiting from overseas and heartfelt satsang sessions over vegetarian meals with my friend and spiritual teacher, Carlos Pomeda. All of these things were essential ingredients in tackling everything traumatic that I had buried in the full throttle life of working 14 hours a day for the whole of 2015. I also slept - a lot. I went to yoga classes - it just felt good to be alone with other people, I began teaching yoga again, I would take every opportunity to nip into the infrared sauna at TriYoga in Camden and sweat out the stress, I began running again (albeit horribly), I relaxed at home - a lot, I washed my clothes myself and hung up my laundry on the line in my back garden instead of having a laundry service, I revelled in the children happily chirping along my street for field trips to the Heath, I made time to listen to music and read Rilke again. And, I totally disconnected from having to be the arbiter of cool for a brand and indulged all my favourite personal pastimes. Some of them downright middle aged. Like listening to BBC Radio 4's Today In Parliament or watching Gogglebox and Gardener's World, discovering England's love affair with Monty Don and adding my name to the long list of diehard fans. I abandoned being a host of supper clubs and started cooking at home. It was during this time that I declared to Mummyji how I strongly felt, sensed, imagined… that my next professional adventure would somehow be linked to India. She worried I was about to embark on my own Eat, Pray Love escapade but it wasn't like that for me. It felt connected to work. I didn't know how or why, but it is exactly what 2016-17 ended up being for me.
Living in London means I have more Indian friends than I have ever had in my life. In Vancouver, the only Indian friends I had were related to me or friends of a friend or acquaintences. I grew up in a distinctly French-Canadian suburb 40 min. outside of Vancouver and never really encountered Indians - from Fiji, India or anywhere else. I never met any Indian people when I moved to the city or when I went off to LA or New York. I have always loved India from the first time I landed in Delhi in June of 1990. I began to grow more curious about my ancestors and roots.
In May of 2016 such an opportunity came along. I went off to work for an AI company that was based in Chennai and California. They were looking for someone who could assist with their business goals of cracking the world of luxury fashion with their AI product. Working remotely and between timezones was something I was very accustomed to from my days of working as a stylist. I spent the next year straddling two very different worlds - my life in London and an all encompassing chaos that was India. I was able to take time out from Chennai, a city I honestly never felt the pulse of or understood, to Kerala - the beloved location of my yoga teacher training from 2009 and to Mumbai - a city I could easily live in. A mix of LA and Miami combined with the Eastern chaos one can only find in India. It's also where I met the person I would end up working with beyond my time at the AI company, fellow tea lover and bookworm Christina Preetha (pictured with me in Abode in Mumbai). I also met artist and illustrator Gauri Kumar, (no relation - Kumar in India is equivalent to the surname Smith or Jones in England) who is now a friend in London. I also reconnected with a friend who is best described as a soul sister, a fellow introvert who found herself in the world of glitz and glamour, actress, author and activist Lisa Ray. One can never know when or where the person or people who are to be a part of our journey will come from. For me, an Indian girl not from India, manifesting a circle of female friends who are Indian from India yet live and work as global nomads, has been something that I feel could only could have percolated because my life's journey led me to the UK. An eclectic mix of creative women that highlight the fact that it is their ability and willingness to share stories and experiences, to show vulnerability, to have the courage to simply open up and share, that is truly bonding. Tip #4 - vulnerability is the key to authentic relationships. Relationships that have meaning and are sticky and sweet vs. tricky and troublesome. Vulnerability is a key component to building personal strength. Everything else is covering up. Take it from me, a former expert cover upper.
Some of my adventures and experiences have been about saying yes and going with the flow. But others have been more intentional. In 2017-18 I made a conscious decision to level up and mindfully deepen and heal family relationships that needed it. It's the year I meditated consistently into acceptance of others as they are. I am part of a small and fractured immediate family (my parents divorced after 44 years of marriage) and an extremely large extended family, especially on Mummyji's side. Amazing things happened when I meditated on my intention for relationships to heal. All I decided to do was stop judging and only accepting. It's meant both locally and globally I am better equipped mentally, emotionally and energetically to be a more active participant in family gatherings. I write often of my introverted ways and my tendency towards being a recluse. Something that surprises some people, but not anyone who knows me well. I have a very sensitive disposition. Energetically and emotionally I give a lot, but I also require time to replenish my reserves.
Life is really hard on so many levels. Depending on the person, it's easy to become negative. It's also easier to become rather narrow and linear in our world view. As someone who has a broad world view, being exhausted is not a way I like to be. I find crowded gatherings, large groups, parties, complainers, gossipers, people with a glass half empty outlook on life - exhausting. During parties and large gatherings, my strategy is that of the Godfather. Find a slightly private yet easily accessible spot, plant myself, and then have a revolving roster of meaningful 1:1 conversations. Arrive when an event is in full swing and leave early. My years working on film sets and being on tour means a lot of chaos can go on around me and I'm fine as long as I can find my coordinates of calm. Below is a gallery of family members who I enjoy spending time with, have healed relationships with and choose to accept as is without judgement. Tip #5 - heal your relationships. None of us is here forever, so do what you can now. There is no guarantee for later.
And just like that, personally and professionally - four years has passed in a land that has welcomed me as an immigrant. A land with a future which is unknown, just as my future is unknown. It's a country where I have directly benefitted from the NHS and programmes such as Solace Women's Aid in taking care of my physical health, my emotional health and my mental health. It is a country I have fully embraced and worked hard to keep connected to my dreams, remembering as my friend so wisely told me in LA many years ago - the dreams are mine. People come and people go. Everyone's life will experience this. Promises will be made and promises will be broken. We will feel love and we will feel hate. The trick is to remember that no feeling is final and failure is not fatal. As long as we decide to commit to creating calm in the chaos.
With love,
Sima x